School of Community and Regional Planning
Media Release | March 2, 2017
Renting out unused residential parking could be the answer to chronic parking shortages in Vancouver's West End, according to a new University of British Columbia study.
November 22, 2016
Today, the federal government is releasing a report on the consultations it conducted this fall on the National Housing Strategy.
November 21, 2016
The federal government is expected to release its housing report on Nov. 22, which is also National Housing Day. UBC experts are available to comment.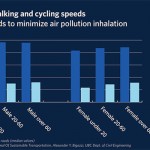 Media Release | October 27, 2016
Cyclists should be riding at speeds between 12 and 20 kilometres per hour, while pedestrians should be moving at two to six kilometres per hour to minimize their inhalation of air pollution while still getting the health benefits of exercise, according to new UBC research.
Media Release | September 13, 2016
The two-kilometre Comox-Helmcken Greenway in downtown Vancouver cost more than $5 million and took two years to complete, but the time and expense were worth it, according to a UBC study.
Media Release | May 21, 2015
The first 20-year survey of public housing trends in North America, Europe and Asia has highlighted the decline in Canada's public-housing investment.
December 11, 2014
A City of Vancouver incentive to developers is doing little to ease Vancouver's affordable housing crunch, according to UBC researchers.
November 4, 2014
Two UBC experts suggest what is needed to start solving Vancouver's housing crisis in advance of the Nov. 15 municipal elections.
Media Release | September 29, 2014
People who prefer to walk and who live in neighbourhoods that promote walking report healthier lifestyles and better health outcomes than those who want to walk but who live in more car-friendly neighbourhoods.
Media Release | June 18, 2014
A survey of Metro Vancouver residents shows that many have experienced discrimination and struggle with affordability, instability, and concerns about poor housing conditions.
December 18, 2013
As the holidays approach, UBC professor Leonora C. Angeles surveys the aftermath of Typhoon Haiyan in the Philippines.
June 24, 2013
UBC experts are available to comment on National Household Survey findings on labour, education and transportation, which Statistics Canada will release on Wednesday, June 26.
April 8, 2013
Aftab Erfan was intrigued when she learned that a Vancouver Island First Nation band had approached UBC's School of Community & Regional Planning (SCARP) for help drafting and implementing their community plan.
February 6, 2013 - by Salina Marshall
Grad student helps the VPD to reduce squad car emissions