Dept. of Civil Engineering
November 22, 2017
Urban planners need mobility data on how people move around the city, in order to improve transit service.
Media Release | October 10, 2017
A new seismic-resistant, fibre-reinforced concrete developed at the University of British Columbia will see its first real-life application this fall as part of the seismic retrofit of a Vancouver elementary school.
October 5, 2017
Motor vehicles are a major source of air pollution in urban areas, and for decades municipal and regional governments have used various traffic management strategies in an effort to reduce vehicle emissions, alongside advancements like cleaner fuel and greener cars.
Media Release | July 26, 2017
Even a single urban tree can help moderate wind speeds and keep pedestrians comfortable as they walk down the street, according to a new UBC study.
Media Release | June 13, 2017
UBC engineers have developed a more resilient type of concrete using recycled tires that could be used for concrete structures like buildings, roads, dams and bridges while reducing landfill waste.
Media Release | April 4, 2017
A University of British Columbia-developed system that uses bacteria to turn non-potable water into drinking water will be tested next week in West Vancouver prior to being installed in remote communities in Canada and beyond.
Media Release | March 2, 2017
Renting out unused residential parking could be the answer to chronic parking shortages in Vancouver's West End, according to a new University of British Columbia study.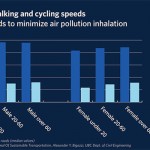 Media Release | October 27, 2016
Cyclists should be riding at speeds between 12 and 20 kilometres per hour, while pedestrians should be moving at two to six kilometres per hour to minimize their inhalation of air pollution while still getting the health benefits of exercise, according to new UBC research.
March 7, 2014
Few women and a looming skills shortage could create a crisis for the industry, says UBC's Sheryl Staub-French.