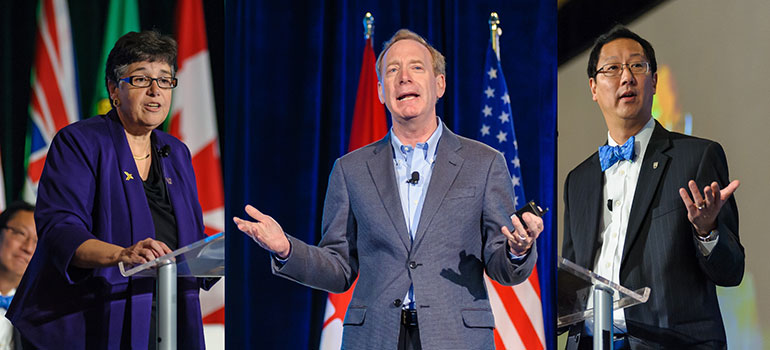 In an expansion of regional cooperation, the University of British Columbia and the University of Washington today announced the establishment of the Cascadia Urban Analytics Cooperative to use data to help cities and communities address challenges from traffic to homelessness. The largest industry-funded research partnership between UBC and the UW, the collaborative will bring faculty, students and community stakeholders together to solve problems, and is made possible thanks to a $1-million gift from Microsoft.
"Thanks to this generous gift from Microsoft, our two universities are poised to help transform the Cascadia region into a technological hub comparable to Silicon Valley and Boston," said Professor Santa J. Ono, President of the University of British Columbia. "This new partnership transcends borders and strives to unleash our collective brain power, to bring about economic growth that enriches the lives of Canadians and Americans as well as urban communities throughout the world."
"We have an unprecedented opportunity to use data to help our communities make decisions, and as a result improve people's lives and well-being. That commitment to the public good is at the core of the mission of our two universities, and we're grateful to Microsoft for making a community-minded contribution that will spark a range of collaborations," said UW President Ana Mari Cauce.
Today's announcement follows last September's Emerging Cascadia Innovation Corridor Conference in Vancouver, B.C. The forum brought together regional leaders for the first time to identify concrete opportunities for partnerships in education, transportation, university research, human capital and other areas.
A Boston Consulting Group study unveiled at the conference showed the region between Seattle and Vancouver has "high potential to cultivate an innovation corridor" that competes on an international scale, but only if regional leaders work together. The study says that could be possible through sustained collaboration aided by an educated and skilled workforce, a vibrant network of research universities and a dynamic policy environment.
Microsoft President Brad Smith, who helped convene the conference, said, "We believe that joint research based on data science can help unlock new solutions for some of the most pressing issues in both Vancouver and Seattle. But our goal is bigger than this one-time gift. We hope this investment will serve as a catalyst for broader and more sustainable efforts between these two institutions."
As part of the Emerging Cascadia conference, British Columbia Premier Christy Clark and Washington Governor Jay Inslee signed a formal agreement that committed the two governments to work closely together to "enhance meaningful and results-driven innovation and collaboration."  The agreement outlined steps the two governments will take to collaborate in several key areas including research and education.
"Increasingly, tech is not just another standalone sector of the economy, but fully integrated into everything from transportation to social work," said Premier Clark. "That's why we've invested in B.C.'s thriving tech sector, but committed to working with our neighbours in Washington – and we're already seeing the results."
"This data-driven collaboration among some of our smartest and most creative thought-leaders will help us tackle a host of urgent issues," Gov. Inslee said. "I'm encouraged to see our partnership with British Columbia spurring such interesting cross-border dialogue and excited to see what our students and researchers come up with."
The Cascadia Urban Analytics Cooperative will revolve around four main programs:
The Cascadia Data Science for Social Good (DSSG) Summer Program, which builds on the success of the DSSG program at the UW eScience Institute. The cooperative will coordinate a joint summer program for students across UW and UBC campuses where they work with faculty to create and incubate data-intensive research projects that have concrete benefits for urban communities. One past DSSG project analyzed data from Seattle's regional transportation system – ORCA – to improve its effectiveness, particularly for low-income transit riders. Another project sought to improve food safety by text mining product reviews to identify unsafe products.
Cascadia Data Science for Social Good Scholar Symposium, which will foster innovation and collaboration by bringing together scholars from UBC and the UW involved in projects utilizing technology to advance the social good. The first symposium will be hosted at UW in 2017.
Sustained Research Partnerships designed to establish the Pacific Northwest as a centre of expertise and activity in urban analytics. The cooperative will support sustained research partnerships between UW and UBC researchers, providing technical expertise, stakeholder engagement and seed funding.
Responsible Data Management Systems and Services to ensure data integrity, security and usability. The cooperative will develop new software, systems and services to facilitate data management and analysis, as well as ensure projects adhere to best practices in fairness, accountability and transparency.
At UW, the Cascadia Urban Analytics Collaborative will be overseen by Urbanalytics (urbanalytics.uw.edu), a new research unit in the Information School focused on responsible urban data science. The Collaborative builds on previous investments in data-intensive science through the UW eScience Institute (escience.washington.edu) and investments in urban scholarship through Urban@UW (urban.uw.edu), and also aligns with the UW's Population Health Initiative (uw.edu/populationhealth) that is addressing the most persistent and emerging challenges in human health, environmental resiliency and social and economic equity. The gift counts toward the UW's Be Boundless – For Washington, For the World campaign (uw.edu/boundless).
The Collaborative also aligns with the UBC Sustainability Initiative (sustain.ubc.ca) that fosters partnerships beyond traditional boundaries of disciplines, sectors and geographies to address critical issues of our time, as well as the UBC Data Science Institute (dsi.ubc.ca), which aims to advance data science research to address complex problems across domains, including health, science and arts.