October 5, 2017
Motor vehicles are a major source of air pollution in urban areas, and for decades municipal and regional governments have used various traffic management strategies in an effort to reduce vehicle emissions, alongside advancements like cleaner fuel and greener cars.
Media Release | March 2, 2017
Renting out unused residential parking could be the answer to chronic parking shortages in Vancouver's West End, according to a new University of British Columbia study.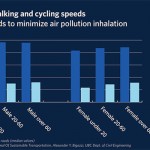 Media Release | October 27, 2016
Cyclists should be riding at speeds between 12 and 20 kilometres per hour, while pedestrians should be moving at two to six kilometres per hour to minimize their inhalation of air pollution while still getting the health benefits of exercise, according to new UBC research.