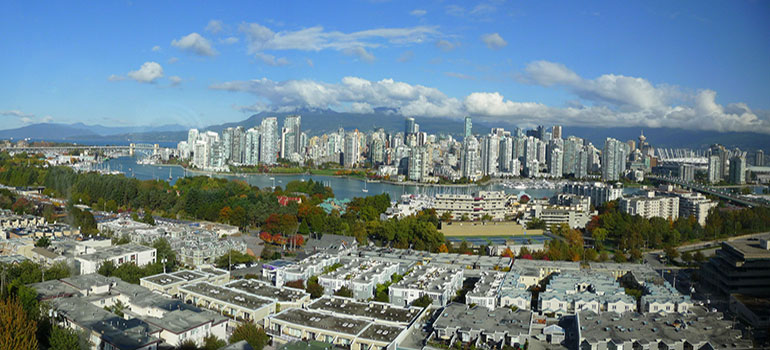 More than half of the world's population is now living in cities. According to UBC's Distinguished Practice Professor of Planning Larry Beasley, retired chief planner for the City of Vancouver, that number is only set to increase. With a view to creating more sustainable and livable cities, Beasley has penned a new book, Ecodesign for Cities and Suburbs, with co-author Jonathan Barnett. Here, he explains what ecodesign is all about, and why it's crucial for our future.
What is ecodesign?
It's a term that's been applied to architectural situations, but we're the first to use it in the context of broader urbanism and city design. It merges two things that haven't been well put together in the world of city design and city building: attention to the environment and integrated attention to the quality and livability of cities.
What are the basic principles of ecodesign?
Intensification of use: intensification of housing, workplaces, and using the land more efficiently. Another way to put that is densification, but that word has so many negative implications. And sometimes you don't have to add too much density to get a lot more intensity of use. The idea is to bring people's origins and destinations, such as home and workplace closer together, a concept we call proximity.
Securing the open spaces of cities: designing open spaces and creating ecological corridors so that wildlife can live, and plant species can go through their normal cycles. That allows water to be managed gently rather than being carried away and causing flooding.
Diversifying our transportation: there is always going to be a place for the car, and within a few decades it will be carbon neutral. But we need to always make sure that we have equal choices for walking, cycling and transit.
Managing wastewater and energy in a more sustainable way, and locally accessing the products that are needed to build cities. Currently we bring massive amounts of materials from all over the world to build our cities, and that has a huge impact in and of itself. And when we tear cities up we tend to throw everything away into landfills that have a huge negative impact on our environment. So we have to recycle and reuse as much as possible.
Why do we need ecodesign?
It's essential. If you go to most cities, they're pretty brutal. Most modern cities are quite inharmonious with people. One group in society has often dominated them, while others have been exploited. With the industrial revolution, cities also became extraordinarily negatively impactful on their environments because of pollution of all kinds. Cities have been increasingly having environmental impacts and experiential or social impacts.
And yet, the irony is that more and more of us every single year around the world live in cities. We're well over 50 per cent now and on our way to two-thirds of us living in cities. And we're building cities faster than probably ever in the history of mankind. Unfortunately, in all too many cases, we're replicating the brutalities and the arrangements that lead to pollution, and we're putting more stress on more of the natural environment.
Project into the future—what's going to happen when 95 per cent of human beings are urban dwellers? The scale of cities and their footprint on the world is going to be huge. There will be massive impacts on climate change, availability of clean water, and so on. Right now we're coping. We're living with it, we're not managing it well and we're living with results. We're living with health issues and we're putting our children at risk.
What cities are doing this well?
The inner city of Vancouver is a really good example. We have increased our intensity of development dramatically and we've diversified to bring residents back to the city, from 35,000 to 120,000 in a little over 15 years. There are neighbourhoods like Hammarby Sjöstad in Stockholm, where they built a mid-rise diverse community that is lush with amenities but also accommodates a lot of housing and workplaces. The Dutch are also doing a lot of experiments with intensification without highrises.
You have to do density with quality measures. In some parts of the world, Dubai for example, they're doing the densification and intensification without a lot of quality. So in fact it's despoiling the environment more. But if you put density together with measures for sustainable infrastructure and quality of livability, all of a sudden it performs very, very well.