June 11, 2013
Four current and former UBC Thunderbirds will be playing for the Canadian women's national volleyball team, which is set to take part in three international events this summer.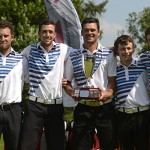 June 5, 2013
The Thunderbirds men's golf team gave its most impressive performance of the season with victory at the Canadian University/College Championship.
May 30, 2013 - by Jean Kavanagh
Theresa Hanson's first concern is safety and security.
May 1, 2013 - by Heather Amos
Emily Grainger was part of a turnaround team, and she's not ready to stop winning
March 6, 2013 - by Heather Amos
UBC head cross-country coach Marek Jedrzejek takes his team to Poland for the World Championships
October 18, 2012
The UBC Thunderbird men's hockey team lost 8-7 in an once-in-a-lifetime matchup against the Bieksa's Buddies, a team of locked out NHL players, which raised more than $200,000 for charity.
August 9, 2012
Former UBC Thunderbird Liz Gleadle made Canadian track and field history today at the 2012 Summer Olympic Games in London.
August 8, 2012
Former UBC Thunderbird Mike Mason capped off a great comeback year by finishing eighth in the men's high jump at the 2012 Summer Olympic Games in London today.
Media Release | July 31, 2012
The University of British Columbia Department of Athletics and Recreation announces the opening of the $2.5 million Gerald McGavin Rugby Pavilion in October 2012.
Media Release | June 26, 2012
UBC Athletics Director Bob Philip has been appointed senior advisor to Vice President, Students Louise Cowin. Starting on July 16th, Philip will provide advice to the Vice President, Students as she embarks on ambitious new plans for athletics and recreation.