September 30, 2013
UBC business, economics and politics experts are available to comment on the possible U.S. government shutdown on Oct. 1.
June 11, 2013
Four current and former UBC Thunderbirds will be playing for the Canadian women's national volleyball team, which is set to take part in three international events this summer.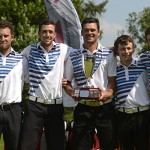 June 5, 2013
The Thunderbirds men's golf team gave its most impressive performance of the season with victory at the Canadian University/College Championship.
Media Release | February 19, 2013
Private insurance premiums are Canadians' single largest out-of-pocket health expense, averaging $1,200 a year per affected household, according to a new study from the University of British Columbia.
December 7, 2012
UBC researchers can provide expert commentary on three proposed pipeline projects that would carry Alberta bitumen to U.S. and foreign markets. Next week the Joint Review Panel of the National Energy Board re-opens hearings for the proposed Enbridge Northern Gateway pipeline.
Media Release | March 14, 2012
With housing prices at record levels, a University of British Columbia-led study finds that new Canadians are struggling to find adequate and affordable housing in the country's three largest cities.
Media Release | February 18, 2012
Satellite images, air quality measurements and smoke forecasting models are useful tools to help individuals and public health professionals prepare for smoke episodes in areas at risk from forest fire smoke, according to University of British Columbia researcher Michael Brauer.
Media Release | February 15, 2012
A UBC expert will be available to comment on expected amendments to Canada's Balanced Refugee Reform Act – likely announced tomorrow – which may have significant implications for refugee claimants […]
Media Release | October 12, 2011
A new UBC study finds that Black Canadians with darker skin are more likely to report poorer health than Black Canadians with lighter skin. The study also suggests that a mismatched racial identity can negatively affect health.
June 2, 2011 - by By Basil Waugh
Catherine Dauvergne says fears that Canada's refugee system is a back door for terrorists are grossly exaggerated
Media Release | May 2, 2011
Media are invited to attend a UBC panel discussion of Canada's federal election results on Tuesday, May 3 (10 a.m.), the morning after the election.
Media Release | March 4, 2011
UBC experts are available to comment on the historic popular revolts in Libya, Egypt and Tunisia and their implications for North Africa, the Middle East and beyond.
July 26, 2010
Recently a remarkable development took place in Canadian public life that has implications for American prosperity. Prime Minister Stephen Harper, leader of the Conservative Party, chose David Johnston, an academic, to be the nation's next governor general.