Media Release | June 6, 2014
The University of British Columbia is announcing detailed plans for its new $39.9-million Aquatic Centre for students, community and high-performance sport.
June 11, 2013
Four current and former UBC Thunderbirds will be playing for the Canadian women's national volleyball team, which is set to take part in three international events this summer.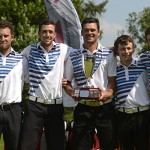 June 5, 2013
The Thunderbirds men's golf team gave its most impressive performance of the season with victory at the Canadian University/College Championship.
May 30, 2013
Accomplished sport program leader Ashley Howard is joining the UBC Athletics department.
Media Release | June 26, 2012
UBC Athletics Director Bob Philip has been appointed senior advisor to Vice President, Students Louise Cowin. Starting on July 16th, Philip will provide advice to the Vice President, Students as she embarks on ambitious new plans for athletics and recreation.