Media Release | February 21, 2014
UBC researchers have developed a technique that targets proteins that cause disease and destroys "bad apples" in the cell.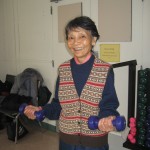 Media Release | May 14, 2013
Forget apples – lifting weights and doing cardio can also keep the doctors away, according a new study by researchers at the University of British Columbia and Vancouver Coastal Health Research Institute.
Media Release | March 6, 2013
University of British Columbia researchers have successfully normalized the production of blood vessels in the brain of mice with Alzheimer's disease (AD) by immunizing them with amyloid beta, a protein widely associated with the disease.
Media Release | August 31, 2011
University of British Columbia scientists may have uncovered a new explanation for how Alzheimer's disease destroys the brain – a profusion of blood vessels.