March 29, 2017
A UBC researcher is drawing attention to the human cost of our consumer behaviour by examining the number of deaths caused by air pollution from manufacturing goods.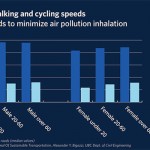 Media Release | October 27, 2016
Cyclists should be riding at speeds between 12 and 20 kilometres per hour, while pedestrians should be moving at two to six kilometres per hour to minimize their inhalation of air pollution while still getting the health benefits of exercise, according to new UBC research.
Media Release | February 12, 2016
New research shows that more than 5.5 million people die prematurely every year due to household and outdoor air pollution. More than half of deaths occur in two of the world's fastest growing economies, China and India.
Media Release | February 9, 2016
Babies born to mothers exposed to air pollution from traffic during pregnancy have an increased risk of developing asthma before the age of six, according to new UBC research.
Media Release | May 4, 2015
New research from the Canadian Healthy Infant Longitudinal Development (CHILD) study shows that exposure to outdoor air pollution during the first year of life increases the risk of developing allergies to food, mould, pets and pests.
January 30, 2014
Michael Brauer of UBC's School of Population and Public Health on the link between air pollution, genes and asthma.
Media Release | March 1, 2011
A pioneering program by one of the world's largest cities to switch its vehicle fleet to clean fuel has not significantly improved harmful vehicle emissions in more than 5,000 vehicles – and worsened some vehicles' climate impacts – a new UBC study finds.